Understanding attention on TikTok: Ads drive strong brand impact across view durations
A recent study shows that TikTok ads drive strong brand recall and positive sentiment across various view durations. The study was conducted in partnership with MediaScience and shows that brands on TikTok are more memorable and perceived more positively than brands on competitive platforms.
What was the study?
MediaScience® is a leading neuromarketing research firm specializing in media and advertising innovation that uses in-lab, privacy-safe eye tracking, heart rate monitoring, and GSR technology to measure how participants interact with ads and content. This provides a holistic approach to insights on how advertising affects consumers on both a stated and sub-conscious level.
This research study, commissioned by TikTok's Marketing Science team, was conducted in the United States with 343 in-lab respondents between the ages of 18 and 45. Participants scrolled at their desired pace through either a TikTok experience or one of three competitive platform experiences. Each experience included 8 test ads each and participants were allowed to skip through ads and content as they normally would.
Key findings and observations
Results of the study highlighted some key observations from MediaScience, all pointing to the power and potential business impact the TikTok platform makes available to advertisers. Overall, ads on TikTok were found to drive higher early user engagement and attention, showed stronger brand recall, and generated more positive brand sentiment than other platforms tested.
TikTok ads are engaging and memorable, even at short durations
Usually, the longer an ad is on screen, the more likely it is to be remembered. But in this study, even if a viewer chose to watch for shorter durations, TikTok ads packed a punch.
Brand recall increases the longer an ad is watched, but ads on TikTok see strong brand recall regardless of view duration. An ad on screen 6 seconds or less still delivered 38% of the recall compared to ads viewed 20 seconds or more.
Attention and engagement are captured early
TikTok's For You page consistently drives engagement for both content and ads. Regardless of how long an ad stays on screen, TikTok draws early attention and physiological engagement in the first few seconds.
In other words, ads on TikTok take less time to make an impact with their audience than similar ads on other platforms.

TikTok drives better brand recall compared to other leading social platforms
Even in a skippable format, brands on TikTok were more memorable than other platforms. In the study, visual and cognitive attention metrics were similar across platforms, which indicates that ads had a similar opportunity to be processed on each. So, when participants scrolled through platforms with skippable ad units as they naturally would—permitted to skip content and ads as desired—ads on TikTok were remembered better than on other leading platforms.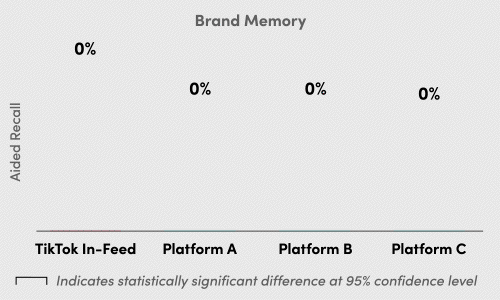 Ads on TikTok see more positive brand perception
The benefits for ads on TikTok don't stop at engagement and brand recall.  
The results of this study also show that brands advertising on TikTok experienced stronger brand perception and their ads were more likable than on other platforms.

Three ways these findings can work for your business
1. Don't Make Ads. Make TikToks.
TikTok for business says it often, and there's a reason for that. Businesses and brands that create native-feeling content for the platform are rewarded with attention and engagement. The recently launchedSpark Ads ad format offers the best of both worlds in the scalability of paid campaigns, combined with the authenticity and functionality of organic TikToks.
2. Create Lean-In Entertainment
Creative brand storytelling works best on TikTok. In fact, we identified several creative attributes that the best-performing TikTok ads have in common. You can leverage our free creative tools and tap into cultural trends with sound-on, short-form videos to entertain your audience.
If you're struggling to get started on TikTok, take a look through the in-app Business Creative Hub to see which branded content is performing best in your country. TikTok is also a great platform for experimentation and exploration, so consider testing out your assets with any of these storytelling frameworks that have driven success for other brands.
3. Unlock results with TikTok Ads Manager
LeverageTikTok Ads Manager and other innovative ad solutions to achieve brand and performance goals. TikTok is a unique platform with a one-of-a-kind community that extends beyond a single ad product or format.
Explore and take advantage of TikTok's entire suite of creative tools, as well as optimizing campaigns to make the most of your brand's presence on TikTok.
Take advantage of the head start
The results of this study show that TikTok offers an immediate advantage to brands that choose to be present and engaged with their audiences on the platform. TikTok's ability to drive deeper and more meaningful interaction with its users, combined with the collection of creative tools and ad campaign options makes it the best solution for driving ad campaign efficiencies with the biggest impact.